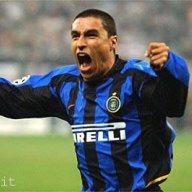 Joined

Mar 7, 2004
Messages

32,072
Likes

8,420
Favorite Player

Bar, Skr, Bas



10 years of FIF
I'm against the sale of Skriniar, but i hate how PSG are lowballing us. They are paying what is demanded for their other targets, but do not move an inch from 50mln offer for Skriniar, when we pinned 70-80mln on him.
It's because of the contract situation. Skriniar is not pushing the transfer but as we're heading the deadline, clubs won't break the bank.
We have yet again fucked it up MASSIVELY. But I'll give the benefit of the doubt to our management because Zhang was the one who didn't give his sanctioning for all those renewals last season when they just dragged on and on.
We will head to the season in a situation where we absolutely need to renews Skriniar but he has ALL the cards now like Brozovic had last season. Brozovic ended up signing a rich contract and that's what Skriniar will get too. It's just that we could have signed Skriniar for 5m net if we did that during last season / end of last season. Now it's gonna be most probably at least 6m net.