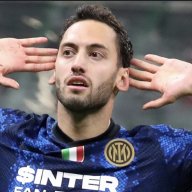 Prima Squadra
Prima Squadra
Joined

Jul 31, 2019
Messages

795
Likes

691

If this is the case, I think the fans ourselves share a chunk of responsibility; pressuring them not to sell.
No. Any fan would have handled this better than what appears likely to occur. Most fans would have offered Škriniar an extension last summer at the latest and not shopped him around.
Same goes for Perisic and Brozovic, most Inter fans saw how important they were for the title winning season.
This debacle is real incompetence. The type where it will hang on reputations.