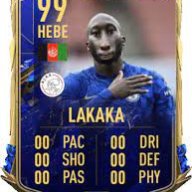 Joined

Dec 2, 2020
Messages

4,117
Likes

2,892

I honsetly did not expect Monza to equalize, despite Inter playing like shit. But the way we conceded that second goal made it possible. The way Mkhi lost that ball in the middle, Dumfries hestitated to header the ball before the Monza player reach to it, and how Onana made a poorly estimated reaction to the header was downright pathetic.

This was a very avoidable draw, but Pazza Inter strikes again.
We deserve this 2-2, instead of sit on thier goal and get the 3 with thier terrible backline, we just go back and tried waste time against this shity team, you could see after lautaro goal, the team totally stoped to play for scoring, like there is no way in the world that monza will score, fucking clowns, at least i hope they got enjoyed to get fucked so hard by this garbage team..