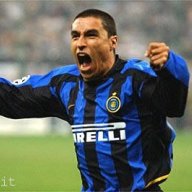 Joined

Mar 7, 2004
Messages

29,148
Likes

2,272
Favorite Player

Bar, Skr, Bas



10 years of FIF
So you'll take Saudi money just so long as they're not calling the shots? How is that better, morally speaking? We will be associated with them and surely the Saudis will use us for clout. And correct me if i'm wrong but with the rumored 30% share, won't PIF have a some influence on how the club is run?

To me the saudi state is up there Kim Jong Un but the world is more complex than how you put it. Saudi's influence is so vast, literally the gas you pumped into your car this morning could've come from Saudi Arabia. Meanwhile Italy is sending weapons to the Saudis for use in Yemen. So again, where do we draw the line?
I don't get your argument, what money I am taking?
My point is Saudi state can use football club as an image polishing too. Now image is bad for them. They own an European football club, they bring in money to Italy, they are in spotlight in European football (at least in their hopes), they might get positions in UEFA/ECA like PSG and the image might be different in 10 years.
They cannot use facebook for such purposes even if they own their shares (they won't own that much that it would make any difference).
Again, we draw the line that I don't want Saudi state to use my club as their propaganda tool.