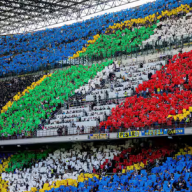 La Grande Inter
La Grande Inter
Joined

Mar 10, 2013
Messages

10,865
Likes

1,660
Favorite Player

Il Fenomeno


I'm not really concerned with missing out on Dybala. My issue is what this means for next summer, assuming Dybala doesn't arrive.

We chose Lukaku over Dybala, choosing to pay for an expensive loan rather than an outright purchase. Next summer, we're going to have only two strikers under contract: Martinez and Correa. Sanchez, Dzeko, and Lukaku will all be gone/out of contract.

Then what? Do we pay an inflated transfer fee for a 30 year-old Lukaku? If Lukaku has a great season, Chelsea are going to want $$$ for him. Do we get swept up in a summer of stalled negotiations, like Marotta is famous for? Do we have to sell Barella or Bastoni to finance such a move?

It just doesn't feel like there's a long-term vision right now.
i honestly don't care much because we will probably continue selling big players in the next seasons. All i want is this second star before the team becomes again full of mediocre players and unknown "talents" like gabigol and alvarez. This could be the last chance this year, with or without Dybala, things are not looking great for us. Marotta is great but he can not do magics, replacing players without money is not easy.
Lukaku is here one year? enough to win at least our last scudetto, everyone can fuck off after this. Specialy Zhang.