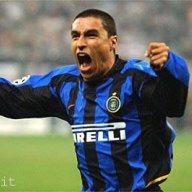 Joined

Mar 7, 2004
Messages

31,718
Likes

7,849
Favorite Player

Bar, Skr, Bas



10 years of FIF
But that's the thing. When we have so many expiring contracts we can basically build the squad however we like. It's now or never for a rebuild and a change in your tactical approach. Why restraining yourself with a formation that only very few coaches in Europe use when Conte isn't around anymore? Do you think sticking with 3-5-2 would be cheap?

- You're going to need 1-2 new starting cbs, depending on what happens with Skriniar
- You're going to need a new starting lwb if we give up on Gosens
- You're going to need 1-2 new forwards, depending on what happens with Lukaku
- For me you also need a creative midfielder to start over Hakan

We are talking about 4-6 new players who are going to have important roles in the squad, not Asllanis and Bellanovas. And that's only if you don't sell Bastoni, Dumfries, Barella or Lautaro. And i haven't even touched the issue of squad depth.

Either way you're going to need money to keep the team relevant after this season.
3-man defence is used more and more these days, specially in Serie A. And after this season, this team has played 4 seasons with 3-man defence.
I'd say we stick to that if there are coaches available for that. And Juric might be since he was in fights (literally

) with his club already this summer.