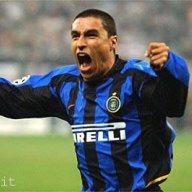 Joined

Mar 7, 2004
Messages

31,361
Likes

7,157
Favorite Player

Bar, Skr, Bas



10 years of FIF
This thread is for following
@.h.
and
@brehme1989
method of calculating a "fuckup budget" for the the whole season to achieve 86 points. You may ask why 86 points? Well it is what it is, don't ask.
Thing is to keep record how many losses and draws we can take to still achieve 86 points mark.
Full budget is 8 draws and 4 losses (or 5D 6L). Below is a live budget, updated after every round. Budget might change, according to the target points. Rivals included.
| Club | Target points | Budget | Current points | Max points | Games played |
| --- | --- | --- | --- | --- | --- |
| Inter | 86 | () | 84 | 84 | 38 |
| Milan | 86 | | 86 | 86 | 38 |
| Napoli | 86 | () | 79 | 79 | 38 |
| Atalanta | 86 | () | 59 | 62 | 38 |
| Juventus | 86 | () | 70 | 75 | 38 |
Inter's record
| | | | | |
| --- | --- | --- | --- | --- |
| August | | | | |
| Inter-Genoa | Verona-Inter | | | |
| 4-0 | 1-3 | | | |
| | | | | |
| | | | | |
| | | | | |
| September | | | | |
| Sampdoria-Inter | Inter-Bologna | Fiorentina-Inter | Inter-Atalanta | |
| 2-2 | 6-1 | 1-3 | 2-2 | |
| | | | | |
| | | | | |
| | | | | |
| October | | | | |
| Sassuolo-Inter | Lazio-Inter | Inter-Juventus | Empoli-Inter | Inter-Udinese |
| 1-2 | 3-1 | 1-1 | 0-2 | 2-0 |
| | | | | |
| | | | | |
| | | | | |
| November | | | | |
| Milan-Inter | Inter-Napoli | Venezia-Inter | | |
| 1-1 | 3-2 | 0-2 | | |
| | | | | |
| | | | | |
| | | | | |
| December | | | | |
| Inter-Spezia | Roma-Inter | Inter-Cagliari | Salernitana-Inter | Inter-Torino |
| 2-0 | 0-3 | 4-0 | 5-0 | 1-0 |
| | | | | |
| | | | | |
| | | | | |
| January | | | | |
| | Inter-Lazio | Atalanta-Inter | Inter-Venezia | |
| | 2-1 | 0-0 | 2-1 | |
| | | | | |
| | | | | |
| | | | | |
| February | | | | |
| Inter-Milan | Napoli-Inter | Inter-Sassuolo | Genoa-Inter | |
| 1-2 | 1-1 | 1-2 | 0-0 | |
| | | | | |
| | | | | |
| | | | | |
| March | | | | |
| Inter-Salernitana | Torino-Inter | Inter-Fiorentina | | |
| 5-0 | 1-1 | 1-1 | | |
| | | | | |
| | | | | |
| | | | | |
| April | | | | |
| Juventus-Inter | Inter-Verona | Spezia-Inter | Inter-Roma | Bologna-Inter |
| 0-1 | 2-0 | 1-3 | 3-1 | 2-1 |
| | | | | |
| | | | | |
| | | | | |
| May | | | | |
| Udinese-Inter | Inter-Empoli | Cagliari-Inter | Inter-Sampdoria | |
| 1-2 | 4-2 | 1-3 | 3-0 | |
| | | | | |
Last edited: