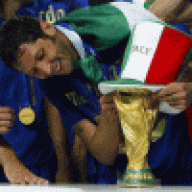 Joined

May 22, 2004
Messages

8,781
Likes

1,559
Favorite Player

Oba


10 years of FIF
Yeah, but is it really that we need to pay 35m€ for a player who needs equally leveled players around him to be worth that money? Because I think we can do better in the market. We simply need to do better. Rafinha is raising the level of this team but sometimes it's not enough. I really have mixed feelings about him almost after every game. He has skill, he moves a lot, he can pass. But is that enough?

Extending the loan would be a gift from Barcelona, so I'm sure they won't accept it. However if we make it to CL, I think we can push it to 2019 summer with obligation to buy clause.
Well there are not many players who could bring us to the next level on their own. And the few that are out there wont be tempted to join us and we most probably cant afford them!!
Also i hate to say it but your right on brozo yet i d still sell him if a good offer comes and get sombody less moody and more consistent in his position.
Anyway one thing is clear wee need better passers and more technical midfielders no matter what!
Btw i m blaming mancini that our midfield is depleted of technical players with passing skills!