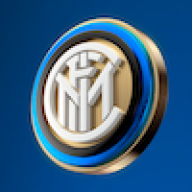 Joined

Aug 24, 2013
Messages

3,750
Likes

44


Was gonna post this in Jonathan's thread, but fuck it he can have another thread. (important parts in bold if you're too lazy to read it all)
As much as I dislike the three-back formation, I think it has done wonders in bringing the best out of Jonathan.
In simple terms, Mazzarri's 3-5-2 (and variations thereof) leaves
Jonathan in a fairly difficult position to pick up, mark, and defend
. For example, in today's match, Catania were playing two players wide on their left (Inter's right) in a 4-3-3 – left back Luciano Monzon and left winger Lucas Castro. Neither of them were sure who was going to mark Jonathan – Monzon was too deep and would leave space behind him if he pushed up, and Castro was too high up (as he was playing as a forward).
That left Jonathan in acres of space.
It's often assumed that all attacking fullbacks are the same, but just like any other position, different fullbacks have different strengths. I was never quite sure what Jonathan's greatest asset was – his one-on-one and penalty box defending is often mediocre, and his dribbling is okay but not great. However, I think the past few games have highlighted what Jonathan is best at –
making unmarked runs into space
.
It wasn't quite as apparent in the second half, but in the first today Jonathan would constantly pop up near Catania's corner flag, seemingly out of nowhere. There was a chance early on when it was 0-0 that highlights this well, when Jonathan (I think...) received the ball on the run and had a shot at the near post. (if someone has extended highlights and could post this...)
Of course, Mazzarri isn't the first manager to play Jonathan as a wingback in a three-back formation – Gasperini and Stramaccioni did it too. But I think it works much better for Mazzarri's team because of Palacio and Campagnaro. To put it simply,
Palacio and Campa occupied Monzon and Castro, respectively.
In the past, when Jonathan has played as a wingback, his right center back has been someone like Ranocchia or Lucio – someone who's not a great attacking threat. Campa is a good at dribbling and passing – he's a genuine attacking threat. So Catania needed to have Castro occupy him, but that left Jonathan free.
And we know Palacio isn't a traditional striker – he likes to move from wing to wing. Today, he spent a lot of time drifting toward Inter's right flank, drawing Monzon toward him. With Monzon being drawn out of position, Jonathan had plenty of space to exploit. When Monzon did try to track Jonathan, he left Palacio open. The second demonstrates this nicely, as Monzon approaches Jonathan (who has the ball), leaving Palacio free to receive the ball behind him. Unmarked in the box, Palacio picks out Nagatomo to make it 0-2.
Here's a quick diagram I made to illustrate this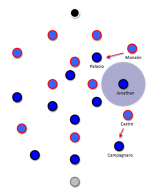 And here's a diagram (courtesy of FourFourTwo StatsZone) that shows how Jonathan received passes in overlapping positions:
http://www.fourfourtwo.com/statszon...yer-stats/53406/1_PASS_07#tabs-wrapper-anchor
Of course, this doesn't mean Jonathan will be so freely unmarked in every game. Not every team in Italy plays 4-3-3 (in fact most don't), and were we to play an opponent that plays with wingbacks like we do, Jonathan would have a harder time with a direct opponent in front of him. Still, it's been an encouraging start from the Brazilian.