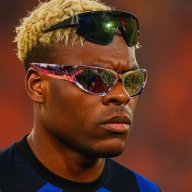 La Grande Inter
La Grande Inter
Joined

Mar 3, 2009
Messages

16,202
Likes

1,501



10 years of FIF
He isn't that bad physically though. He tends to hold the ball pretty well and also does wins physical challenges here and there, something that Barella lacks for example, and yet he's a midfielder. I think he is okay physically even though there is always room for improvement. I'm not gonna say that he is too good or doesn't need to improve on anything because that would be plain bullshit but the guy is doing more than okay in offensive department.

We are not playing a game where it requires dribbling or getting to past your opponent, I mean we have even strikers whom aren't capable of this. Don't we have the lowest percentage of dribbling?

Then again, if he was great defensively, great offensively, was also physically very strong and had extraordinary creativity, don't you think he would have been playing elsewhere than Inter? He may not be our ideal wingback, but as things stand, he is more than good enough for this Inter. Besides of being important for this team, I still think he's the best left wingback in Serie A and among the best of Europe.

Even these high-profile wingbacks have their flaws, be it defensively or offensively. Dunno, he is crucial for our team, and everything goes through him. I think he should have had even more goals/assists because he was so unlucky in many occasions. His attempts were pretty close and is a constant threat to opponents. I really can't complain over him.