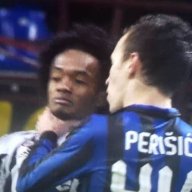 Administrator
Administrator
Joined

Jul 17, 2010
Messages

16,998
Likes

13,406



10 years of FIF

Forum Supporter
He gave away possession too many times and the times he did not, his teammates had to run to awkward places to barely save it. Even Lautaro's goal which was a sort of a combination between them had Lautaro nick the ball off the defender as the pass was very poor.

His best effort was in the first minute that hit the bar. After that he couldn't win a header and everytime he received the ball he was bound to lose or misplace it. It was one of his worst games actually, far worse than Roma and probably as bad as the home Slavia game.

The only improvement was that he didn't lose the ball most times from first touch but from the second or third.... If you can call that improvement, then sure, silver linings everywhere.
I think you're being overly critical about his assist. It was a pass that required the narrowest of margins to be successful, and sure the defender missed the pass because it was a tad more behind Martinez than expected, but he still converted the pass about 90% correctly. It's like criticizing a player who scores on a large deflection for taking a poor shot.
With that said, he was not good after that point. We continually kicked balls deep to him, some of which he managed to knock down. But as our midfield was pegged further back as the game progressed, those knocked down balls became passes to no one. He became invisible from that point on, and Conte mad a large mistake subbing off Martinez instead of him.