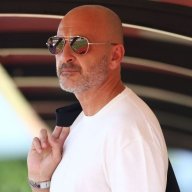 Joined

Jul 12, 2019
Messages

1,232
Likes

1,714

Well being our best striker this pivotal 2 months, especially last 5 games, just shows how helpfull he was lol
Yeah it just shows we can't rely on him. Dzeko and Lautaro even if they're having a bad string of games right now actually had more than half a season where they did very well, scoring loads and helping the team tremendously, while Mr MVP with his fat *ss is over here stinking up the place and missing open goal chances at the moment when according to all his fanboys "April will be his month", "Lukaku is about to stunt on his haters", "The king is back".
Many people were acting like after one whole year of being overweight at Chelsea + his injury + his abysmal WC, he would just magically lose weight, get his head back in the game and reach the form he was under Pintus. Now it's April and he has less non penalty goals than Dimarco and we still have to read about how pivotal he is and how he only need the right coach, etc.
There is always something to excuse how bad he is/plays, always. At the time we needed to sell Lautaro and get him a better striking partner, at Chelsea players like Werner, Havertz and Mount weren't good enough to play alongisde him (despite literally winning the UCL three months prior), at Inter it's actually Inzaghi who is keeping him from performing at god level.
If he was in any semi-decent form, he would have scored both misses yesterday. It was 3 years ago and people are still memeing Gagliardini for what he did against Sassuolo but the 115M€, 110kg, 20M a season, Top 5 striker is out there missing the goal because he can't even choose the appropriate foot to tap the ball in the net and excuses are already flying in.