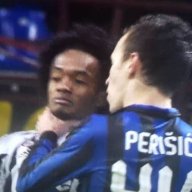 Administrator
Administrator
Joined

Jul 17, 2010
Messages

18,456
Likes

18,374



10 years of FIF

Forum Supporter
Great news to wake up to this morning.

I don't hate Lukaku. He was fantastic in our Scudetto-winning season. The problem is he needs EVERYTHING to be picture perfect for him to succeed. He needs his system, his manager, and needs to be the focal point of attack. We've now seen him fail at both Chelsea and United because he didn't have this, and to a lesser extent with us last season.

I never wanted to spend 40M on a player who already peaked. We sold Lukaku at the perfect time - right before the decline - two years ago. He's only going to get worse from his Scudetto-winning form. His wages are far too high. Juventus are morons if they actually sell Vlahovic for him, imo. Then again, Allegri completely broke Vlahovic so maybe he'll magically repair Lukaku.

And yes, I'll always wonder what would have happened if we had started LuLa in the UCL final.

In terms of alternatives, my top pick is Jonathan David. He doesn't work with our team, though. He's of the Thuram build - he's a supporting striker who helps unleash the main striker through his creativity and speed. We need to sign more of a box assassin to replace Lukaku. Someone who, you know, will burry a headed when 3/4 of the net is open in the most important match of your life. I'm guessing we're going after Scamacca.