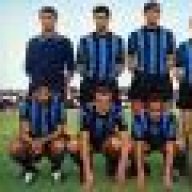 Joined

Nov 2, 2011
Messages

1,566
Likes

302
Favorite Player

Ronaldo


10 years of FIF
I know people will laugh at this hiring because of his stints at Milan and Torino but he had done a good job at Sampdoria in the past so maybe it isn't going to be another disaster for him.

Giampaolo at Sampdoria is great news for Sensi as he will probably switch to a midfield trio. If he's smart enough he will accept the offer.
This is more or less a pattern here. And it has actually no logic.
Giampaolo was good at Empoli and Sampdoria. His Samdoria could beat in a good day nearly any team in Serie A. And he developed a lot of players. As any other teams, too thin sqaud to fight for something higher. Then he went to Milan and Torino and his teams played atrocious. It's not like he was out for a few years and football changed.
Di Francesco the same. Good at Sassuolo and Roma first year. then downhill. Sampdoria, Cagliari and Verona this year were emberassing.
Prandelli the same. Zaccheroni. Cuper. And the list goes on.
And by this I mean coaches who had managed well at least 2 teams. These guy were yesterday good coaches and today utterly incompetent.
Mourinho is downhill. But this took years.