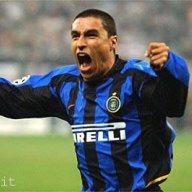 Joined

Mar 7, 2004
Messages

32,320
Likes

8,776
Favorite Player

Bar, Skr, Bas



10 years of FIF
I love like how always someone will try to make this a larger-than-life type of problem.

"Something is wrong inside the club"
"Zhang minus X plus Y"
"Locker room is unstable at this moment"
"The problems started after the mercato news came for..."
"This formation requires this and that, but more of that and we miss this and especially THAT"


Inzaghi needs to leave. That's the truth. Maybe he needs another club to reach that level of knowledge (and with that comes confidence) that will make him look outside his bubble. As is, he sucks.

He is a nagatomo bitch type. 4 meh games, followed by 10 loser games, followed by a win, followed by another 4 meh games that now look like a gold after the terror we've witnessed.

Loop this.
There are always reasons behind why coach fails.
There's been speculation over here about those reasons. I don't get this "larger-than-life" nagging.
It's as if you claim there is nothing behind this downturn, but just that Inzaghi needs to leave. That he just sucks or something. He also collected 84 points last season so wouldn't say it's only that he sucks (quite oxymoron coach sucks but he's been able to collect 84 points in a season and win 2 finals).