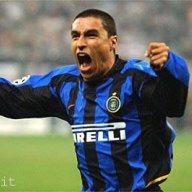 Joined

Mar 7, 2004
Messages

34,388
Likes

12,533
Favorite Player

Toro, Barella



10 years of FIF
Very interesting points by Parolo. So we have very loose structure as per the design.

Issue is we indeed do not have some leaders gameplay-wise who would lead by example and drive the play. Barella COULD be that but he just gets frustrated too easily and obviously he can't do stuff by himself.

Lukaku SHOULD be that guy who we throw the ball and he creates havoc but he ain't that anymore. And he's never been a guy who's some superstar to drive the play. Lukaku needs that rigid structure and the whole game orchestrated around his strengths. None of that happens with Inzaghi.

All this leads to conclusion Inzaghi is not for Inter.

But we cannot change him mid-season, hoping another guy would do any better. We ain't gonna have some new system at April, working immediately with some new random guy. We still dominate most of the games and new guy can't put the ball to the net, that is our players' job.