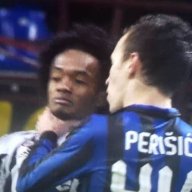 Administrator
Administrator
Joined

Jul 17, 2010
Messages

17,391
Likes

14,605



10 years of FIF

Forum Supporter
I don't think anyone here would categorize Inzaghi as a proactive manager. He sticks with what works until it doesn't. And even then, he'll beat it into the ground for a few weeks before he makes any changes.

A bolder manager would have subbed off Gagliardini in the first half when it was clear his head wasn't screwed on properly. I'm not mad at Inzaghi because I've accepted who he is as a person. It's the same reason Dzeko will certainly start the UCL final over Lukaku.

I blame the player.

Now, bottling the 1-1 so quick? Embarrassing.