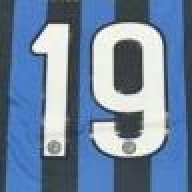 La Grande Inter
La Grande Inter
Joined

Feb 3, 2009
Messages

12,638
Likes

2,597
Favorite Player

Zanetti


10 years of FIF

Transfer Guru
Anyone saying "Inzaghi out" needs to get their head checked. It makes no sense.

I am not a fan of Inzaghi. Didn't want him here, thought it was a short sighted move, and Inzaghi hasn't changed my mind yet. That said, we have signed Inzaghi, clearly the club management rate him, so lets give him a couple of years to show what he can do. Its not like we can get a top manager to replace him anyway, we is broke. The best thing we can do now is give the club some stability, coz its not like we can make big changes that require sizeable investments or afford to pay 2-3 coaches salaries at the same time.

Even if Inzaghi is average as I fear, we are all familiar with the following laws of football:

Limited money + average coach + constant coach changes = banter era

Limited money + average coach + stability = maybe a top 4 team

And there is always a chance that we/I are wrong and Inzaghi turns into another Mancini or something.