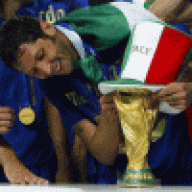 Joined

May 22, 2004
Messages

7,812
Likes

116
Favorite Player

Oba


10 years of FIF
High risk high reward! A yolo stock as they say
Thats what i thought....
Well does not get more yolo then gme and amc but i doubt they have much room left to run. Clov and palantir have a similar fan base but dont necessarly share other caracteritics of AMC (i.e. lots of promoters and big short positions) Dm is another one that could get pumped easily imho. But again since the apes are lacking any logic it s really hard to identify the next yolo stock and once they ve taken off the risk/reward just does not seem right.
i guess the best yolo play that comes to my mind would be buying put options on either of these yolo stocks if you can. Yes shorting has been a bitch in this environment but they ll have to come down eventually, so if you can get short dated puts on the cheap i think that probably gives you the best risk reward ratio.
Also we just had two fed chairs coming out hawkish and asking for tapering which would be very favourable to short positions. That being said i dont think powell is ready to change course just yet.
Basically picking whats gonna be the next yolo/meme stock is impossible just like picking which fucken NFT will be sold for 100k next is basically impossible.
Also i have to mention OCO again imho worst case scenario is that it doubles from here but it has the potential to go 5x even from current levels.
Also ON s gonna IPO soon with the hype around it in the US and switzerland it might be that investors jump in without thinking even though valuation is way out there....(they want a 5 bio valuation with a rev for H121 of 316 and a NI in the single mio digits) While i would ever pay 10X revenue for a shoe company that probably has worse margins than nike and does not even grow much faster then them. I do think their a nae that could get hyped up they have all t takes. Plus i ve read quite some very enthusiastic articles about them with very few questioning the valuation.
In other news my YY yolo play is going terribly thus far... It s almost like i m a bad day trader ( I am a bad day trader and i know it i just cant resist the urge at times)
Last edited: