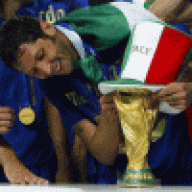 Joined

May 22, 2004
Messages

9,396
Likes

2,287
Favorite Player

Oba


10 years of FIF
He better... I'm still waiting for Stone to recover

The only one that I lucked with was Affirm. Sold the last of it near the top, then bought again at the final dip (27ish) and sold in the mid 40s.

Doesn't cover the Paypal, Square and StoneCo losses though but at least it's something.

Should have sold SoFi as well... Fucking Chamath ruined that one.
LOL told you guys that Chamath was full of shit and that sofi sounded like a shitco...
Also yes stone backfired badly glad i got out of half my position in the high 80s... Still sitting on the rest though...
As a shareholder, I'm team Musk.
I understand that but you should have sold the day he announced his offer. Reading the offer it became clear that he does not really intend to buy and now with the poison Pill he for sure aint going through with it, plus it will probably turn off any other possible buyer.
Really dont get why longterm twitter holders did not go lol thanks and sold their shares on the offer spike.