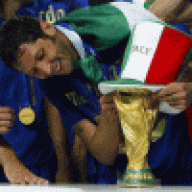 Joined

May 22, 2004
Messages

8,315
Likes

927
Favorite Player

Oba


10 years of FIF
TBH, I think you're kidding yourself if you think Inter is on the radar for Suning in general, considering the problems they're going through right now. We're an after-thought, which is probably by Steven can still be so involved - no transformation director, new CEO, etc, of Suning is going to give two shits about Inter, and that's especially true of CCP/etc.
So your telling me a company that is valued at +/-3.2bio and is financially struggling does not have a 1 bio asset of theirs on their mind?
I know not top priority but if the sale of inter has not come up at suning their blatantly incompetent...
Also my post was not about wether or not suning cares my post was about whos calling the shots and pointing out thats it s probably not the zhangs since we re owned by suning and the zhangs are not the biggest shareholder of suning any more....