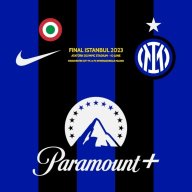 Joined

Mar 9, 2004
Messages

4,722
Likes

2,444


10 years of FIF
I recently purchased hardcopies of the Inter edition and Calcio from These Football Times. I have been trying to work out how I can post them on here but have been struggling to find a solution other than attempting to take photographs of each page which obviously would not present very well.

This morning, I realised that I had been provided with electronic editions of Calcio II and Philosophies.

I tried to attach and post the former to this thread but the attachment is too large. Does anyone know how I can make it available to the Forum as a whole?

It is my understanding that Calcio II is 158 megabytes in size. I have tried to take individual screenshots of each double page and attach them to this post but the attachment is still too large for the page.

Does anyone have any suggestions?
Last edited: