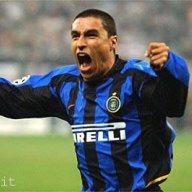 Joined

Mar 7, 2004
Messages

32,406
Likes

8,919
Favorite Player

Bar, Skr, Bas



10 years of FIF
What the fuck is this shit that I am reading?

Firstly, to the Liverpool supporters that have patronizingly posted on here to give us a friendly pat on the back and say how great our Forum is, I only have two words: fuck off.

To the Inter supporters kissing the arses of Liverpool supporters and thanking them for Liverpool's comeback in the Champions League final in 2005, all I have to ask is whether any of you were Inter supporters in 2008? Because for me, that one still hurts.

Accordingly, Liverpool is a cunt football club and their supporters are arse gapers.

Save us from reading your bullshit and go back to posting where ever it is you post.
Take it easy champ and grow up.