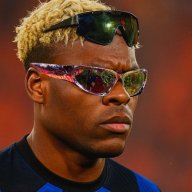 La Grande Inter
La Grande Inter
Joined

Mar 3, 2009
Messages

17,724
Likes

4,142



10 years of FIF
Over 90 min anything can happen. City would wipe the floor with us in the league, but in a one off game all it takes is a monster performance from our 4 defensive players and we have a good chance.
City has incredible squad depth, all quality players. They basically have almost three quality teams to field in.
But at least I'm pretty sure we will show some balls. Our team is on fire lately, and we have proven to be a tough task for anyone. Don't let tonight's match distract you, because Inter knows what they want. I don't wanna go further because I'm afraid I might jinx it, but seriously I'm so confident in our team. We didn't came here just to come here.