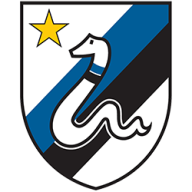 La Grande Inter
La Grande Inter
Joined

Jan 17, 2005
Messages

31,840
Likes

12,581


10 years of FIF

Nostradamus

Most Passionate Member
They still have the most Coefficient point this year, even higher than Italy
Yeah because the group stage gives a lot of points and teams like Manchester City, Manchester United, West Ham and Arsenal cruised from their groups.
West Ham can go far in the Conference I imagine, Manchester United could lose to only Sevilla (quite shit this year) or Juventus but I think they're winning it. City is one of the best attacking teams in the world and as long as they don't face a team that can pressure them defensively, they won't lose in CL. And Arsenal bottled it already.
Italian teams don't really have a great chance. but there's three out of 7 that can hope to reach the final. The three teams in CL can only hope they face each other in order to advance to the semis.
Roma and Juventus probably also hope to face each other. Would be great if both went to the final and Mourinho tears them a new one there
Fiorentina's chances at the Conference league aren't slim, but they'll have to completely focus on that in order to win it. They can beat any team remaining over two legs, but West Ham won't be easy. Nice, Alkmaar and Anderlecht are also tough teams to face.
Lazio's jersey is just so lightweight in Europe. They cannot do shit, ever.
If you wanna see a league that has been shit this year, it's Spain. And France has been underwhelming.
Love the action from the Netherlands and Belgium, it's been a while as they were overtaken by Russian, Ukrainian and even Turkish teams over the past 10-15 years.