Someone by the age of 20 approx., so maybe 3 times more in terms of mins?
at Inter

age of 18 at Inter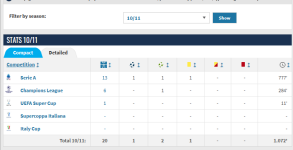 Another one at the age of 18 at Inter: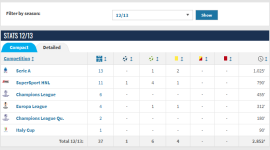 Caboni is 17, and our current team isn't so strong that we can easily let 1 or 2 young kids play among them and still win, so it is also harder to intergrade, but to be fair Simone is playing and developing youngster a lot more than most of our coaches we had in the past.
I personally hope he can get 300-500 mins in Serie A and CL combined this or next year, and the year after close to 1000 mins, if we are serious about developing this kid. Obviously everything is according to performance and developing progress, but it would be more realistic expecting Bellanova or Asllani having 800+ mins in total play time, which is more than Gag's last year, then hopefully around 1100-1300mins next year.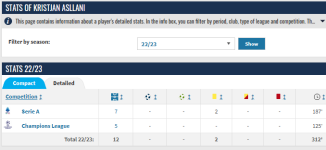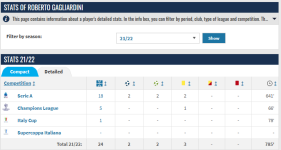 Also sometimes keep playing a player doesn't mean he will develop, take Kovačić for example, when he was with us compare to Broz.
​