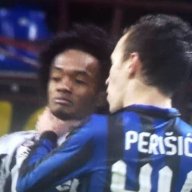 Administrator
Administrator
Joined

Jul 17, 2010
Messages

16,196
Likes

11,117



10 years of FIF

Forum Supporter
1.
let's win this one for handanovic, give that man his first trophy already, no one deserves it more than him, it would be a shame if he doesn't win anything with us despite all those years.
2.
I prefer Nainggolan, Vidal & Brozovic. Asian tattooed drunk with mohawk, South American tattooed drunk with mohawk and European tattooed drunk (no mohawk though). Together, they'd blow away other teams midfields with their industry, and breathalyzers with their blood alcohol level.
3.
Last time Sensi started, I was in the hospital doing chemotherapy because the doctors told me I had a cancer. I was hairless and beardless too.

Now I am not sick anymore and I am once again a handsome guy, Sensi is gonna start tomorrow, it's the cycle of life !
4.
Conte meeting with management
5.
"Hello, Eric Dier. I've settled in well and I'm enjoying it."