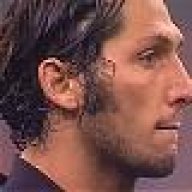 La Grande Inter
La Grande Inter
Joined

Feb 7, 2005
Messages

10,019
Likes

503
Favorite Player

Tomas Locatelli



10 years of FIF

Forum Supporter
Valencia coach Rafael Benitez was a frustrated man after his side suffered a 1-0 defeat to Inter Milan in their Champions League quarterfinal, first-leg tie on Wednesday.
A header from Christian Vieri in the 14th minute was all that separated the two teams, both forced to play with ten men after the 57th minute sending off of Inter's Emre Belozoglu and David Albelda of Valencia, but Benitez said he had expected a more adventurous approach from the Italians.
"We created a lot of chances but we weren't able to score. The problem was that they were able to get an early goal and then they could play the way that they like -- defending and trying to play on the counter-attack," said Benitez.
"I expected a bit more from Inter than closing up like that but of course it was up to us then to try and change the game around and we weren't able to do it. I can't say I am satisfied because I always want to win but we are still in with a chance of going through" added the Spanish coach.
A single goal advantage for Inter leaves the tie still very much up for grabs but Benitez wouldn't be drawn on what to expect in the return game on April 22.
Inter have never matched their rivals for entertainment, but coach Hector Cuper, who took Spain's Valencia to two successive Champions League finals before moving to the San Siro, has instilled a level of aggression rarely seen in Italian teams.
Cuper's team have enjoyed their best moments when forced to fight -- scrapping it out with Newcastle United in their second phase match and, decimated by injuries, battling for a result against Bayer Leverkusen in their final second round game.
Those qualities were shown in abundance again on Tuesday as they hung on for a result at Valencia to make their first semifinal in Europe's premier competition for 22 years.
Inter progressed thanks to the away goals rule despite being outclassed 2-1 at Valencia.
"Inter reached the semifinals of the Champions League using weapons it thought it had buried forever," the paper continued.
"Valencia was superior in every department. Goal chances, shots on goal, possession. It was a siege.
"Inter owes its passage [to the semifinals] to its goalkeeper Francesco Toldo, who pulled off one, two, five prodigious saves."
The defensive style of play, however, did not impress Valencia coach Rafael Benitez.
"We were better than Inter in both games.
If all sides played like them then football could disappear,"
he told reporters after the match.
"The stadiums would be empty because nobody would come and pay to watch that kind of display. They are the death of football."
Inter, through to the last four of the European Cup for the first time in 22 years, will meet city rival AC Milan, which beat Ajax Amsterdam in its quarterfinal Wednesday, in the semifinals.
Toldo savors moment as Inter's hero
MILAN (Reuters) -- "Goalkeepers are crazy" goes the saying and for a moment during Tuesday's Champions League quarterfinal triumph in Valencia, Inter Milan keeper Francesco Toldo certainly looked to be reaching the limits of sanity.
The image of Toldo's angry confrontation with team mate Luigi Di Biagio, almost pulling the shirt off the back of one of Italian football's genuine 'hard men' after the midfielder had grabbed his neck, featured heavily in the Italian media on Wednesday.
It was a moment that encapsulated the high tension that had accompanied Inter's 2-1 defeat to the Spaniards -- a result which was enough to put them into the semifinals on away goals.
But what made Toldo the real hero of Inter's battling rearguard display was a series of outstanding saves as he almost single-handedly foiled Valencia's ceaseless attacks.
Toldo was quick to play down the incident with Di Biagio, citing it merely as proof of the determination the Italian side had shown to make it into the last four in the competition for the first time in 22 years.
"I'm very sorry about what happened, but it was just a moment of competitive tension. We are great mates and we cleared things up immediately and everything's fine now," Toldo told the club's Web site.
Di Biagio concurred: "From the outside it's seen as something that shouldn't occur between team-mates and that is right but I see it as a demonstration of the indomitable character of Inter players.
"It would have been worse had there been apathy or resignation. There's no problem between me and Francesco," said the midfielder.
Certainly there was no sign of the square-up having harmed Toldo's concentration on the game -- he made around a dozen key stops, including a stunning save from a fierce volley by Ruben Baraja.