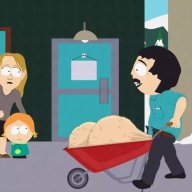 BLACK JESUS
La Grande Inter
Joined

Dec 26, 2010
Messages

11,720
Likes

543
Favorite Player

+ 15K Likes
Old username

Black Jesus



10 years of FIF
I don't have a major but I've mastered the science of nothing.
- - - Updated - - -
Bachelors in journalism. I've had some fun jobs and I've had some shitty ones. If my pay didn't get bumped up a few years back, I'd be doing something else. I always looked at big name journalists and how rich they were so I assumed most journalists were like that. Boy was I wrong. Most of us could make more money doing damn near anything else. Had I have known this 15 years ago, I would have never blown money on college and would have just went to trade school.
You should have just open a blog man and skip school.
What kind of journalism do you cover?