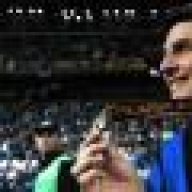 Joined

May 5, 2004
Messages

1,529
Likes

1
Favorite Player

JZ

I don't like the french, but this was _again_ a deserved victory for them! Zidane, Vieira and Makelele owned the midfield as they did vs Spain, and the brazilians badly missed Emerson, they simpy couldn't stop the French.

Fatnaldo can go and eat some burgers, this game showed that he cannot perform against an in-form team, he's only capable of producing something vs teams like Japan.
Parreira was an idiot as well, starting with Pignaldo and 'Dinho upfront, the moment Adri came in and Dinho pulled back a little they started rolling, but it was too late.
I'm really sorry for Adri, it really wasn't his fault that they're out, but the french deserved their win, and I'm looking forward to a great game vs Portugal.