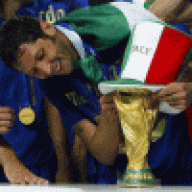 Joined

May 22, 2004
Messages

9,336
Likes

2,229
Favorite Player

Oba


10 years of FIF
Can you name 5 great WBs so that we can get two of them? I'm running out of names just trying to think of a single one.
No i cant! Theres a scarcity of WBs especially quality ones. That does not mean that we should not focus our resources on our weakest department. We ve got scouts for something right?
Only one that comes to mind but again is not really a WB is Cancelo... he seemingly is having troubles at City and he can play that WB position even though it s not his favourite thing to do. He s one that i would get immediately if he is fine with playing WB instead of FB.
I m not saying just splash out money on WBs for the sake of it, but in terms of time and money invested it should be the department that we pay the most attention to in the next window. Mostly cause i m happy with what currently would be our starting CBs our starting midfielders and our starting Strikers, onl department i m not happy would be that LWB and RWB spot neither of the players we have in these positions should be a starter in a top team.