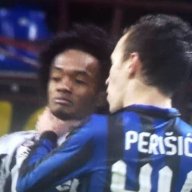 Administrator
Administrator
Joined

Jul 17, 2010
Messages

16,196
Likes

11,118



10 years of FIF

Forum Supporter
:`((copy and pasted from last year with minimal changes)

The FIF Oscars are back.

The FIF Oscars Nomination Thread is now open. I'm enforcing a hard limit of a maximum of 5 nominations per category (per person). This thread will remain open for the next week, so please make your nominations as soon as possible.

- If a member you wish to nominate has already been nominated by others, please ensure you still nominate that person as this process is about determining which members would be most deserving to be made eligible.

- Please make your nomination based on your personal opinion and do not let trend or other members determine your choice.

- Once the nominating period is concluded, The mods will determine which nominated members will go into the respective pool for voting. The number of members per category may differ depending on nomination outcomes.

- Anyone that nominates themselves shall be considered a self centered twat and that nomination will not be considered.

Categories:

Best Overall Poster
Best Football Poster
Most Diverse Poster
Most Serious Member
Most Humorous Member
Nicest/Kindest Poster
Most Optimistic (Overly Positive) Member
Most Pessimistic (Overly Negative) Member
Most Stubborn Poster
Most Improved Member
Most Passionate Member

Just like the last Oscars, the Best Newcomer award will not be taking nominations as the new members in 2020 (with a decent amount of posts) are automatically nominated when voting opens.

I encourage everyone to participate in both the nominating and voting process. The more participation, the more interesting the awards voting process becomes.

To reduce clutter, you require five nominations to advance to the voting round in an individual category.