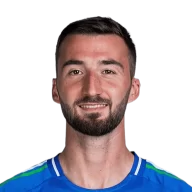 Joined

Jan 27, 2009
Messages

28,173
Likes

12,696



Forum Supporter

10 years of FIF

FIF Special Ones

Most Humorous Member
Milan winning the Scudetto should be a reminder to naysayers who claim you can't be competitive and win titles with such a salary cap and young set of players.
This I disagree with. Even if they do not win the league, this is an immensely successful season for Milan. Part of what makes Milan's success so annoying is however, is that by all rights, it shouldn't have worked - and knowing our luck, there's no chance it'd work for us.
9 times out of 10, when you lose a generational talent and national team keeper like Donnarumma, that too for free, you struggle to replace him. Milan not only replaced him but arguably improved on him with Maignan for just €15m. This is generally not how it goes. Imagine us replacing prime Handanovic for some loser like Cragno - do you think we wouldn't feel Handanovic's absence?


9 times out of 10, when you lose a starting midfielder for free and you don't properly replace him, you struggle. Yet despite missing Calhanoglu and having an absolute bum "replacement" in Brahim Diaz, Milan have managed to win without Calhanoglu's G + A contribution


9 times out of 10, when both your starting striker and backup striker are simultaneously injured, you struggle to score goals. Yet despite missing both Ibra and Giroud, often at the same time (Rebic too), Milan still managed to keep winning games


9 times out of 10, when you lose your starting CB for the season with an ACL injury, your defence struggles, not to mention when your other starter is simultaneously injured. Yet Milan managed to win games, including the derby, with a backline of fucking Kalulu - Romagnoli. Again, this is not how this kind of thing goes


Speaking of Kalulu, 9 times out of 10, replacing your starting CB with some unknown RB bought from France for €1m does not work. Yet Milan have found an extremely reliable player in Kalulu for extremely cheap and they have not missed Kjaer at all. That generally does not happen either. Imagine that Handanovic and Radu both got injured and we had to play fucking Gabriel Brazao who performed out of his skin? Unimaginable
My point is that 9 times out of 10, the situations that Milan have faced don't end up the way they have ended up for Milan. When you downsize your squad, replace them with players of lesser repute, you do NOT end up competing, let alone winning the league.
Sure, they've had some luck with external factors, namely Suning's self-amputation of our squad, plus juve's transition period. But what Pioli has done is nothing short of miraculous. I am impressed as I am bemused by the whole thing.