I agree. If someone is willing to pay like 25m, maybe 20m+5m bonus, I'd sell him immediately. Correa feels like Lazio-or-bit-above level of a player.

Let's see if he can bring something to the table in these final four matches of the season.

Change my mind Joaquin!
I agree. Him as a player in big clubs, kinda reminds me of Guti at Real, and J.Cruz here.
It is weird, like there is something missing, but it is also a pity not to play them.
I would actually place Hakan in that bucket before this season, but his intensity and work rate changed that, which makes me think that he is able to fight for a starting position even at other big clubs.
I still cannot decide his low defensive work rate (improved a bit today) is due to "he thinks he is special" or he is just timid.
With that said he actually enabled Lautaro today, which isn't exactly new.
Just putting things in contrast:
Lautaro's first goal, he dragged the 2 defenders back and hence the space: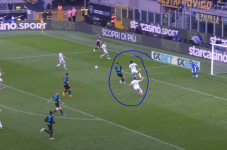 even for his second goal, Lautaro gets space with him:
Another one just to show he creates attacking space, dragging 2 defenders out of position:
And finally look at what Dzeko (circled one) would make it look like, and normally Lautaro would be where Correa is: