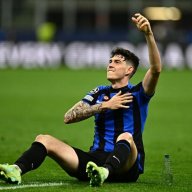 Joined

Jul 31, 2017
Messages

1,422
Likes

357
Favorite Player

Skriniar

Wait, I thought it was only conte that didn't want skriniar, are you telling me it was a club decision??

Stupid decision anyway. Fucking Ben White is going for 50m and we will sell skriniar for the same if not less depending on conversion rates. Fucking ridiculous.
I feel personally attacked by this post because I crucified Conte for wanting to sell Skriniar.
But in hindsight we could say that the club wanted to sell Skriniar because of the financial problems we are in right now. Those reports didn't came out at the time we put Skriniar on the market so the only logical reason would be that Conte wanted to sell Skriniar after a season where he didn't performed as well as we all expected. And if Ben f*cking White (who the hell is this guy) going for 50M we should at least ask 100M for Skriniar.
What? I've missed the news we are selling Skriniar.

Stop taking all the rumors as gospel.
My bad, I just saw Fc InterNews reported it as ''Italian media'' when the source is InterNews.