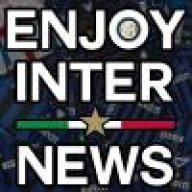 Joined

Aug 7, 2014
Messages

6,731
Likes

1
Favorite Player

Christian Vieri

Mohamed Salah Ghaly (Egyptian Arabic: مـحمـد صـلاح; born 15 June 1992) is an Egyptian professional footballer who plays for Italian club Fiorentina, on loan from English club Chelsea, and the Egypt national team as a winger.
As well as representing the Egyptian national team at an early age, he also participated in the 2011 FIFA U-20 World Cup and the 2012 Summer Olympics. He won the Swiss Super League in his first season with Basel, and was awarded the CAF Most Promising African Talent of the Year in 2012.[3] In 2013, he was awarded the SAFP Golden Player award for being the best player in the Swiss Super League.
2014– Chelsea 13 matches (2) goals
2015– → Fiorentina (loan) 16 matches (6) goals (3) assists

Agent: 'Fiorentina knew Salah choice'
Mohamed Salah's agent claims Fiorentina had 'always known' that the winger would not return to the club this season.

The Egyptian arrived on loan in Florence as part of the deal which took Juan Cuadrado to Chelsea, with the Viola having an option for another year.

The club took up that option, but it was then announced that Salah had decided to veto the move, in favour of joining another Italian club.

"For me, the situation is very clear," Ramy Abba told Radio Bruno Toscana.

"A document was signed by the three parties in January, his deal with Fiorentina has expired, so he'll return to Chelsea - we're waiting for new offers for him.

"All offers and increases from Fiorentina were rejected by the player. The situation was clear in February, and it was known within Fiorentina too.

"The Viola are a great club, and like a great club they must know what has to be done. The economic problem is only a small aspect, he may get better opportunities for his career.

"All I can tell you is that at the moment he's a Chelsea player, but there are certainly other offers, both in Italy and abroad.

"In a few days we'll decide his future, there are a lot of teams interested in him."

Abbas was then asked whether his client had a message for the Fiorentina fans.

"I can't speak for him. He was definitely grateful for how he was treated in recent months in a Viola shirt.

"As soon as there's an opportunity, he'll tell you his side of the story, and how things went."
Intercepted by the microphones of firenzeviola.it, Ramy Abbas, a lawyer who is part of the entourage of Mohamed Salah, has thus spoken of his client: "We decided not remain at Fiorentina. Salah will move to another Italian club this summer."
Paul Bargiggia, market expert of Premium Calcio, Inter fans updated on the issue Salah: "Really close the phone until 22 pm because of Ramadan. The Fiorentina awaited response to the 20, but there wasnt. Now you go to the clash: the Egyptian was called for the withdrawal of 12 July. The leaders of Fiorentina fear that the player may have agreed with Inter or Juventus, to me more likely the track that leads to Inter ".
28.06.2015 - Gds - Inter contact with Chelsea for Salah.
Inter have the approval of Salah: Inter test the loan repurchase obligations.

Studies of SportMediaset get updates about Salah could greet Florence after only six months after his arrival. Inter are in pole position for the Egyptian player and would be in advantage over other competitors (Milan and Rome among others). The nerzzurri have already found an initial agreement with Chelsea for a presito sale with repurchase obligations set at 20 million Euros. The Nerazzurri have earned the approval of the player whose entourage tomorrow will see Fiorentina.
The Viola have since poured into the coffers of Blues 1 million Euros for the continuation of the loan and to persuade Salah would be ready a contractual adjustment.
Corriere dello Sport - Inter-Salah, contact! "Contact with the player. The Nerazzurri want to rip the Egyptian Fiorentina. Thohir takes the field and called Abramovich. Chelsea available to close the operation. "
Gazzetta dello Sport - Inter, landed Kondogbia. French this morning in Milan: visit and signature. Nothing Imbula, Perisic goal. Salah is the dream but Fiorentina, who today presents Paulo Sousa, does not want to let go.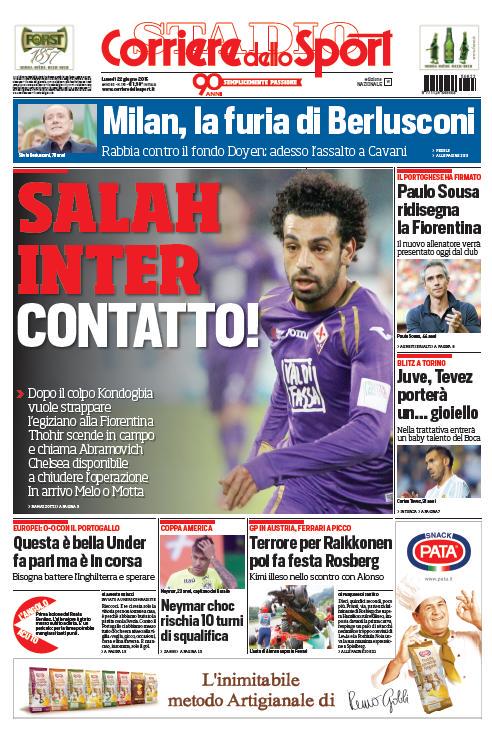 Agent: Salah 'has Viola veto'

Mohamed Salah's agent reveals he has "power of veto" over a Fiorentina extension and could return to Chelsea.
The Egypt international arrived in January on loan as part of the deal taking Juan Guillermo Cuadrado to Stamford Bridge.
"Fiorentina do have the option to extend the loan, but the player also has power of veto," representative Ulisse Savini told Sportitalia.
"Right now he is on international duty, but when he returns then he'll make a decision."
Salah could therefore return to Chelsea, though he'd likely be sold on somewhere else.
The Viola's deal means they have an option to extend the loan by another season, then another option to buy Salah outright after that for a reported £9.5m.
Last edited: