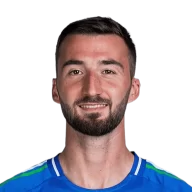 Joined

Jan 27, 2009
Messages

28,384
Likes

13,364



Forum Supporter

10 years of FIF

FIF Special Ones

Most Humorous Member
That's why we might even be better off with Bastoni - Skriniar - Milenkovic. Even if I don't love Milenkovic he is at least a better athlete than De Vrij. The way the game has evolved being athletic in defense is less optional and more of a requirement. Just look at the top teams in Europe and who they have at CB. There's less and less slow guys relying purely on positioning and reading of the game. That's why there's hardly any market for a 30 year old international with one year left on his contract.
Agreed completely. Given a choice, I'm taking Bastoni - Skriniar - Milenkovic. Not only would that eliminate de Vrij from of the equation, it would allow Skriniar to play in the center where he was remarkably good last season. I expected him to struggle a little bit but was great as middle CB.
Sadly, I simply do not trust de Vrij anymore. On that note, I don't know what people are expecting here. Is it possible for him to recover and have a great season? Sure, stranger things have happened. But de Vrij's contract situation and his relationship with the club has only deteriorated further. Hard to imagine he'll suddenly develop the mental strength to significantly pick up his game.