Joined

Jan 18, 2011
Messages

5,847
Likes

100
Favorite Player

Lukaku



Forum Supporter

10 years of FIF

Anti-Barca
Well Virgil is just really good... This is pretty much the first time that our defense is our biggest quality - and it truly is BIG right now. De Vrij is a really good defender, as we all know, but Virgil van Dijk easily outclasses him, which says a lot. I think he sometimes looks a bit clunky because of his posture and height, but that's it. He rarely makes any mistakes, like the one that allowed Giroud of all people to score against us. His positioning is usually just perfect and he negates any attack he can get to... But also builds up play a lot... He's even pretty good at scoring himself - 'til now every time he tried to do so in our NT, he scored. Without his qualities I highly doubt that Liverpool would have gotten to the CL final this year...
Next to that he's just a natural leader, because he's honestly a good guy. He looks the part and lives up to it on the field. Able to read everything that's going on and guides his teammates when needed. A part of this quality could also be seen after the game yesterday, when he consoled the ref who broke down in tears right after the final whistle because of his recently deceased mother. He just does so much more work than De Vrij...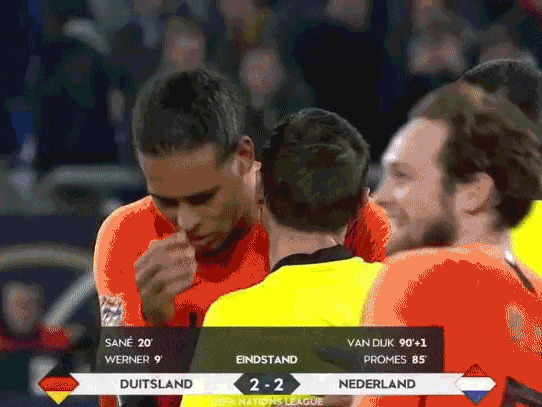 But then there is De Ligt. This guy is absolutely going to be world class - if he isn't already. He will be even better than Virgil in a few years time. Already had Ronaldo in his pocket vs. Portugal, turned Mbappé invisible vs. France and is one of the key players to allow Ajax to almost win their group in CL. He's always a beast - I think he has a lesser game like last night once every 5-7 games. Both his game and attitude are very professional, and the guy is just 19... A fuckin' teen! He's on farca's most wanted list together with F. De Jong and rumors say that they are willing to bid about ~60 to ~80 million on each.
So yeah, De Vrij will remain a supersub because Virgil is just better and De Ligt (probably already better as well) is a player that you want to give as much experience and gelling with the team as you possibly can... Sucks for our NT that a good attack and a good defense always seem to alternate each other. They just won't come at the same time
blivious:
But man, the most underrated player was De Roon. He has worked himself into the starting XI so quickly and steadily, his presence on the midfield is already unmissable... We need to grab that guy form Atalanta asap.
- - - Updated - - -
Damn apparently that ref heard his mother had passed away during the half time break. And still he finished the match perfectly. Respect...