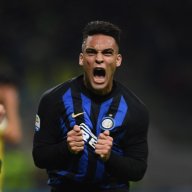 Joined

Mar 22, 2018
Messages

4,255
Likes

1,551
Favorite Player

Lautaro

It's the typical situation with international football and fans who pretend they care about their national team but they really don't.

Milanisti went to the stadium only to boo Donnarumma and then they bashed Mancini for not calling up Tonali.

Juventini were bashing Bastoni, Insigne and Di Lorenzo but they had no criticism for Bonucci and Bernardeschi.

Bastoni wasn't good last night but he certainly wasn't the worst player yesterday. He's at fault for the first goal (in second all the defense was disorganized) but he also saved Italy from many dangerous situations.

The main problem was his defensive partner, Bonucci, didn't give him security which made him insecure in his game. He was much better in the second half next to Chiellini.

It was also a huge mistake of Mancini to switch to a back 3 with Bastoni in the middle and Di Lorenzo and Emerson on the sides. We have seen it at Inter. Bastoni isn't suited for the role. He can only play on the left in a back 3.
Agree with your entire post, but not convinced about Basto being at fault for the first goal. I am not trying to defend him at all costs, but the cross was flawless and Bonucci did nothing to block it while running next to Oyrazabal. The spaniard had all the time in the world to make that perfect curled cross. Anyway if that's what they want it's better for us to keep Basto at Appiano than sending him for an injury risk.