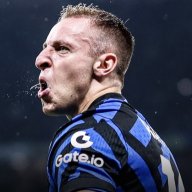 Joined

Jan 27, 2009
Messages

27,698
Likes

10,204



Forum Supporter

10 years of FIF

Best Overall Poster

Most Humorous Member

FIF Special Ones
Xhaka was never ever a beast. He had mediocricity written all over him since his Monchengladbach days. I remember we were linked to him back in the day, i had an argument with albanian friend. He rated him highly, i didnt at all. Should have had that bet with him lol, that he would flop at big team.
Agreed. Xhaka at Gladbach was one of those typically shit modern midfielders that gets undeserved praise. At best you could say he's "tidy" with his passes and once in a blue moon scores a screamer or gives an amazing long ball.
More often then not, as you say he's completely mediocre. Defensively spastic, gets booked ludicrously often, can't tackle for shit, slow, weak, and selfish on the ball.
Of all the midfielders we've been linked to, he's the absolute worst choice IMO. I would even take a gamble on Matic (who looks utterly finished) than Xhaka.