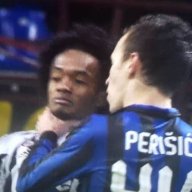 Administrator
Administrator
Joined

Jul 17, 2010
Messages

18,430
Likes

18,311



10 years of FIF

Forum Supporter
Thanks to everyone who voted. Congratulations to all of our winners, and Happy New Year.
Best overall poster:
Universe
Best football poster:
Il Drago
Most diverse poster:
wera
Most humorous poster:
Universe
Nicest poster:
MVD
Most improved poster:
bubba zanetti
Most passionate poster:
Sawyer
Best newcomer:
nelsonrivas2011
Post of the year (tie)
:
Ah, fuck off. This club has the negotiating prowess of a homeless hooker.
I thought the draw was tomorrow, then I went online and saw the groups listed and still through it was tomorrow because clearly that's last year's group