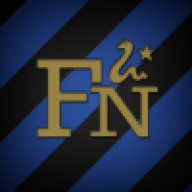 La Grande Inter
La Grande Inter
Joined

Apr 19, 2009
Messages

13,060
Likes

141
Favorite Player

Ronaldo


Forum Supporter

FIF Special Ones

10 years of FIF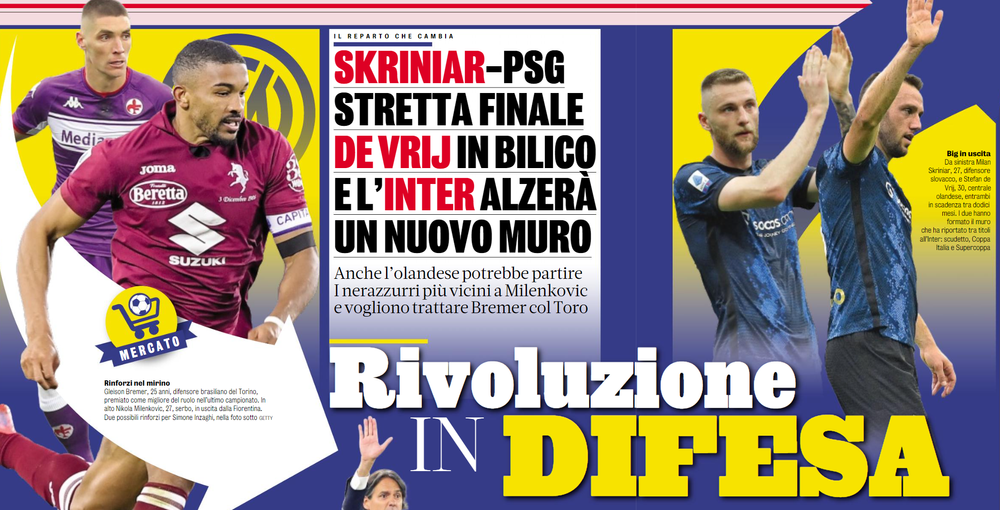 REVOLUTION IN DEFENSE
Defensive department is expected to see major changes.
Skriniar-PSG, down to the final stretch. De Vrij's future is in balance. And Inter will raise a new wall.
Even the Dutch defender could leave. Inter are the closest to Milenkovic and want to negotiate with Torino for Bremer.
Milan
- If this is not a revolution then we do not know what is. Between the financial accounts to settle, contracts to be redone and squad to be rejuvenated, Inter are likely to find a new backline at the start of the next season. Onana was made official yesterday and for the first time there will actually be competition for the goalkeeping position, but the most delicate situations remain those of Skriniar and De Vrij, both have expiring contract in 2023 and with uncertain future. Skriniar is the star player who has ended up the "chopping" list. Suning's policy hasn't changed, despite the many arrivals in June and the return of a top player like Lukaku. Inter need to sell, to close the next budget with at least €60M. And the Slovakian defender is biggest prized possession that Inter have on the outgoing market. The Nerazzurri at first resisted the advances of PSG, rejecting four offers including the last one of €60M plus Draxler. Nothing was done as Marotta and Ausilio did not yield an inch, confirming the demand of €80M in cash, with no players included. But as often happens in these situations, the breakthrough should be somewhere in between: €70M (perhaps with bonuses) and Skriniar will pack up and move next to the Eiffel Tower.
Last effort
- We need another increase to get to the contract signing part. Meanwhile, PSG and Skriniar already have an agreement in principle: five-year deal at €7.7M net plus bonuses that could boost his wages to as much as €9M. Impossible to say no, despite the love for Inter and the desire to stay in Milan. In Paris, he will be expected to play a leading role in the defense of one of the favorites for the Champions League title in the coming years. Waiting him in Paris is also his friend Hakimi who according to rumors tried to soften Skriniar's stance in the early days of talks between the clubs. That has proven to be fruitful. And now, all that remains is to wait for PSG's final effort, which will come as soon as the issue related to its coach is resolved. The continuous contacts between the clubs in the last few days lead to optimism: PSG are ready to sign a top defensive player while Inter, as required by Suning, will have to get closer to the €60M and will have some money left to fix its defense.
De Vrij
- It will be two new signings, if not three, for Inter's defense. That number will depend on the future of De Vrij: his contract expires in a year and that will surely disturb the player and the team in the upcoming months, and at the moment, there is no appointment on the agenda to talk extension. De Vrij is 30 years old and makes almost €4M net a year: should offers arrive, Inter will consider them in order not to risk repeating the Perisic case. Manchester United have turned its radar on the Dutch and he is waiting for a call from Inter or others but he will not clash with the club: it is not in his nature to make noise but if he thinks that it's over then there is no way to make him change his mind.
Objectives
- Marotta and Ausilio are trying to push for at least one defender very soon, considering that the new season (preparation) starts next Wednesday on July 6th. Milenkovic is the easiest objective: he has a promise from Fiorentina to let him go for €15M. There is already an agreement with Inter, with a contract worth €2.5M net. But at the top of Inter's list remains the name of Bremer (also wanted by Juventus and Milan), the best defender of last season, who recently confessed that in his future there is the Champions League. He has already said yes to Inter but an agreement with Torino is far from simple. They value the defender at €50m, simply too much for Inter. But market scenarios are endless and the transfer season has just begun. If Bremer is to be the new Skriniar, Inter will have to find the right strategy to get to the end.
Follow me on Twitter: @F_Nerazzurra
Source: GdS