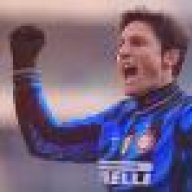 Joined

Apr 12, 2013
Messages

2,104
Likes

0
Favorite Player

Javier Zanetti

If Thohir comes to Inter as President, then it'll be interesting to see what changes he initiates in the club management. There is a lot of discussion around the fact that he'll be looking to maximize profits out of the club, rather than put his heart into the organization (like Moratti).
But in saying this, there is a failure of understanding on how profit is made in football, how utility can be maximized at the club.
Imo its very good to see someone intent on running Inter like a business; this imo is not a negative but a positive aspect, that he'll be looking to profit from the club.
That being said, I think that the management structure needs to change with the arrival of Thohir, because of his lack of experience and knowledge on the sport. The President should not be in charge of both sporting and financial operations in the club, the kind of power Moratti currently has as President.
This is a very rudimentary idea of what the club structure should look like:
So in this model the board has most of the power, and the President is only concerned with funding and financial operations. This is similar to what is currently being used in Spain, notably at Barcelona. Also Moratti's family should not dominate the board (as is the case atm).
Leonardo would be in a sporting director/director of football position, and ideally Oriali, Angeloni, and Fassone would be on the board. MM could also have a position as Treasurer (perhaps).
We need
businessmen
who are looking to get the best out of Inter on a long-term basis.
Imho the main objectives of management are:
New stadium
Marketing and creating an Inter brand
Youth Project
The reasons justifying the new stadium are obvious; there are hurdling costs for the rent of the stadium, and it is completely outdated in the 21st century, without many of the facilities that other arenas in PL and La Liga offer.
We get 13% of our revenue from matchday sales, while clubs like Arsenal earn 41% of their revenue from matchday sales. This is generally attributed to the many facilities in Emirates stadium like the elite boxes, conference rooms, restaurants, merchandise shops, and museum, as well as the appeal to the fans (of a new stadium). Also the economic rent of the San Siro to the government is very high atm.
Moreover, purchasing the San Siro outright would just entail high maintenance costs, and it lacks the space for commercial facilities.
There is a high financial investment, but also a high profit that can be gained from a stadium that combines its traditional function (hosting football matches) with a series of much broader entertainment options.
Globalization and the growth of consumerism have changed stadiums, and created demand for this new type of arena.
Secondly, we need to market and create a distinct Inter brand. This is something that imo has been lacking from the club, and is attributed to Moratti's lack of a coherent vision for Inter.
It's critical for the future, and was the main facet of Barcelona's revitalization in the early 2000s by the likes of Laporta and Rosell.
We need to create a higher level of enthusiasm in Inter, through television and billboard advertisement, and perhaps a global marketing campaign stressing upon the collective identity of the supporters.
Imo perhaps one of the best markets for Inter to advertise the club and set up club stores is South America. Selling fake jerseys to the supporters for cheap prices would be a good move. In fact, there could be an advertisement campaign featuring the likes of Zanetti, Cambiasso, and Milito, and possibly Passarella, Sosa, Crespo, Veron, Recoba, and Batistuta to rally in support of the club and generate local enthusiasm for the team. This would be an incredibly effective way to increase support especially in Uruguay and Argentina.
I've also heard that we have a very large fan base in Indonesia, so obviously marketing the team and setting up merchandise stores in the Asian continent (Shanghai, Jakarta, Tokyo) is a good investment.
Remember, although the initial investments for these projects will be fairly large, the resulting income would make it fairly profitable.
Thirdly, in order to reduce spending and increase income, a direct way to do this is initiate a youth project. The foundations of a strong future squad are already in our ranks:
---
GK

Francesco Bardi
Rafaelle Di Gennaro
Vid Belec

DF

Juan Jesus
Andrea Ranocchia (he's 25, but can still be here for the long haul)
Simone Pasa
Simone Benedetti
Cristiano Biraghi
Ibrahima M'baye
Luca Caldirola


MF

Marco Benassi
Alfred Duncan
Mateo Kovačić
Daniel Bessa
Lorenzo Crisetig
Joel Obi
Diego Laxalt

FW

Mauro Icardi
Ishak Belfodil
Samuele Longo
Marko Livaja


---
And we also have other Primavera prospects like Smug, Bandini, Belloni, Tassi, and Capello.
I don't think Mazzarri is the right coach for this squad, rather it would be preferable to have someone who's willing to be here on a long term basis (Simeone?).
Obviously this wouldn't be an immediate objective, but management should gradually integrate most of these players into the first team. We've spent hundreds of millions in the mercato, and the relative gain in profit (compared to the absence of such a project) would be gigantic.
The youth budget should be increased, and we should try to mold relationships with a few clubs to develop Primavera graduates (e.g. Espanyol, Livorno).
Additionally the current salary budget is idiotic and unsustainable. For a team in such a desperate financial situation, we need to significantly cut the salaries for all players, including Cambiasso and Zanetti. Funding their lifestyles is draining the club of its funds.
The goal is to reach a zero deficit, especially with FFP in action. Inter administration also has a very high salary budget. Consolidating most of the responsibilities in a board is the best option right now.
The Angelo Moratti training center and the Appiano Gentile need to be eventually renovated to give the club a new look. The working area needs to have good ergonomics and especially a modern public image.
Marketing the club is absolutely critical in the redevelopment of a new Inter with a vision and more supporters around the world. I remember reading somewhere that every 10000 supporters generates 1 million euros in revenue, so if that can be increased, there is yet another source of capital for the club.
Once these objectives are all completed, and we're recording profit in the club, then we can spend larger on star players. Generally there is a cycle of spending and revenue that occurs in most high profile clubs; wherein when better players are signed, there is an improvement in results, leading to even greater revenue:
Cycle of success (credit to IE business school), starting at "Sign the best players":
PSG did something along these lines in signing Beckham, a player with no intrinsic value on the pitch, but quite a lot in terms of shirt sales and marketing. Signing Ronaldinho was Barcelona's way to generate more shirt sales and enthusiasm in the club.
Note the step concerning rationalizing spending, something Moratti neglected in the past few years.
But right now this is not important; rather those three objectives are key to some sustainability in results for Inter, and the development of a coherent philosophy of the club.
Moratti has been a failure in those respects, and hopefully the club will change in the future, because drastic changes need to happen mainly in management strategy and structure.
Thanks for reading, and I'd appreciate any kind of response to this post.
Last edited: