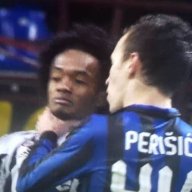 Administrator
Administrator
Joined

Jul 17, 2010
Messages

17,360
Likes

14,515



10 years of FIF

Forum Supporter
After being inspired by a post by Pimp, I'm literally making this up on the fly, so bare with me.
The concept is simple. Someone poses an argument which can be a debatable opinion, a general observation, whatever. The community reads it and adds their two-cents, countering it (or agreeing with it) using whatever opinions or supporting evidence they would like. After a little while (or once the discussion dies out), the person who posed the initial question selects the person who made the best argument during the round. That "winner" then poses a new argument. Rinse, wash, repeat.
No idea if this will catch on or absolutely suck, but I'll give it a shot.
First argument:
Icardi would consistently score 20-25 goals per year if he played in La Liga