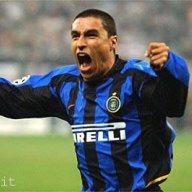 Joined

Mar 7, 2004
Messages

34,345
Likes

12,467
Favorite Player

Toro, Barella



10 years of FIF
It's about the ownership situation and especially the news Zhang have decided to keep the club for the foreseeable future.

Nothing to do with winning or losing for me.

Footballing wise things are nowhere near as bad as pre Calciopoli or banter era. I have seen far worse on the pitch in my years as an Inter fan so that's not the issue.

My issue is there's no hope for the future under this ownership. Nothing to look forward to. We could win Scudetto and reach CL semis and still nothing would change. We would still have no money to rejuvenate the squad which is badly needed. We would still have to sell starters in order to meet Suning financial demands and we would still have no adequate funds to buy proper replacements. Even the traditional selling clubs make serious investments with the money they get from sales. We can't even do that.

So i have no motivation left to watch this never ending circle that started in 2021. The current policy only leads to downsizing. We're just trying to slow down the process.

Anyway, i don't want to spoil the festive mood after this match. Very important win and hopefully we can have a great second part of the season.
Strange way to think. If we win Scudetto and CL what else there is to win?
I mean with new ownership, isn't the point that we would build a team being able to win later? But if we won immediately, then that wouldn't be enough because we had lower chances to win later?
Why is this?
I suggest all you people to live the moment. Of course we can worry about the future and should, but live the moment more and not doom and gloom about the future all the time.