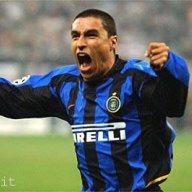 Joined

Mar 7, 2004
Messages

34,376
Likes

12,512
Favorite Player

Toro, Barella



10 years of FIF
They were fake sponsorships, Zhang connections in China, maybe quid pro quo or probably even Zhangs shifting their own money through those companies to Inter. But they didn't even get all the money moving to Inter.
We have made huge steps but the issue is, it's been only piling cash and taking debt all the while everything is totally dependent on CCP. That can't be a real plan. But that was the plan and here we are.
Cost-cutting would be relentless with a fund, but the plan would be clear. We would focus more on younger players. Now we are trying to do both, cost-cutting while trying to win everything. AND THAT drives the management and the coach to do things we do. We sign veterans because that's what the management and the coach knows (how to get success, in short term, with limited funds). Total inability to long-term planning because of the ownership.
Doing something stupid doesn't make it less stupid if someone else does it too. Stop defending the cryptobro BS please.
We just happened to forgot on insisting them paying in advance? Or maybe there was not a deal to be made with such conditions? You know, maybe because of the total scammy nature of the whole business. In the end all the cryptocompanies are there because there was a cryptoboom and VC money wanted a piece of it. But the truth is there is no real business because cryptos do not solve any problem. The cryptoboom was based purely on people going apeshit in the new tulip mania. But enough with the cryptos.