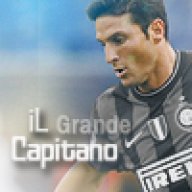 La Grande Inter
La Grande Inter
Joined

Feb 14, 2007
Messages

10,336
Likes

3,350
Favorite Player

Il Capitano



Forum Supporter

10 years of FIF
Apologies if this has been discussed before, but do we have any clear evidence Skriniar has a contract signed with ze french from the summer?
If not, as far as I'm concerned the beggars could still find the money to offer him a new contract?
Yes, I've had a few beers, pardon me
Steven can only offer Skriniar Inter themed key chain and a mug from Inter store.
Nasser Khelafi will buy Skriniar a brand new airplane and a Ferrari as a welcoming gift.
Jokes aside, we offered a great deal of money. But we should have offered a better deal 1 year ago. It doesnt matter the contract offer is 7M€ now. It was stupid to leave it so late so thats that.
Skriniar will soon be back in the lineup.