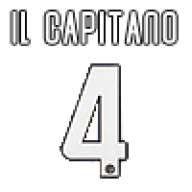 Administrator
Administrator
Joined

Mar 4, 2004
Messages

25,084
Likes

48



Forum Supporter

10 years of FIF

Most Important Member
Every transfer forum deserves a topic like this!
Simple question really, if you can play God and choose any current player to play for Inter, who would it be and why? I have 2 at the moment.
Walter Samuel
With all due respect to Marco Materazzi, there is a lot better player out there that is playing in the same position as him. I regard Samuel is one of the best defender in the world. He reads the game as if he was reading a primary school textbook. He is strong in the air and he will complement Cordoba well. Furthermore, he plays as a stopper with the Argentinian NT and will be able to complement Materazzi should Cafè is injured. He may not start his Real Madrid career well but there is no doubt that he is up there with the Nestas.
Steven Gerrard
He is one of the most improved player over the last 2-3 seasons. Simply indispensible for Liverpool, he is perhaps the most complete midfielder in the world at the moment. Playmaking, ball-winning, goal-scoring, you name it, he has it. With him, this will be my dream midfield:
Code:
               Stankovic

Emre                              Gerrard

                Davids
Mamamia bellissimo grandissimo fantastico gangbang we'll rule the whole damn world! :lick::horny:
Hand
yo