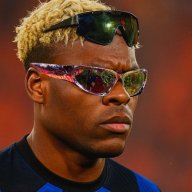 La Grande Inter
La Grande Inter
Joined

Mar 3, 2009
Messages

17,788
Likes

4,249



10 years of FIF
Well, after great start of season people started to believe that we could do what Napoli did last season. But we already have 1 loss, against mediocre team like Sassuolo, at Meazza. Second half performance was really bad. Our attack only depends on two people and when we lose Hakan we have no player to fill in. Plus people still have trauma from last season and this loss totally reminds us of so many fuckups from last season in Seria A. We aint winning scudetto if we lose every few games against shitty midtable or bottom club, fucking beelan is winning those games with ease.
Football is beautiful because it's unpredictable. Sucks that out of all teams, it's again Sassuolo to break our momentum in the league, but I haven't seen the match so I can't comment on it.
Don't let negative or pessimistic people fool you with stupid examples and narratives. This team has still plenty of quality and the bench is more than good enough. Alexis, Frattesi, Cuadrado, Klaassen, Arnautovic, and there is still one of Darmian/Pavard to sit in the bench or share the starting spot in a long shot. I mean, if these names aren't enough to cover bench solution then I don't know what else do you guys want.
Most of the teams out there have these 2-3 key players that carry their ship throughout the season, whether it is Real Madrid, Barcelona, Bayern or even others.
Hakan's importance in this team is crucial but there IS still solution despite his eventual absence. It was just bad timing (l.e match vs. Sociedad) that our team as a whole looked out of place. Pretty sure there will be times when Hakan won't be playing because of injury, suspension or whatever, and Inter will still play good and achieve results.
Our team will get back in form, will also eventually drop points and ect. This is how football works but the thing is that we shouldn't let the bad results have impact in our mental state.