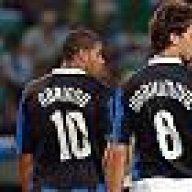 Prima Squadra
Prima Squadra
Joined

Aug 3, 2004
Messages

803
Likes

0
Favorite Player

Javier Zanetti
Man I am so NERVOUS right now!!!!! I cant remember when was the last time I was so scared of a match. I have never had this feeling in Serie A this season not even before the games against Milan and Roma, just shows how fascinating the CL is!

CL is like a real high-fly honey who has everything from the ass to the lips but is playing difficult to catch, u know u want the bitch desperately but u dont know wich move to use because u are afraid of blowing it up. CL is exactly like that one bad move and ur OUT, so lets hope Mancini better not blow it by fielding a pussy formation !

All 11 players will have to be like TIGERS today, Mancini should show them the movie Rocky before the game so the guys get pumped up big time. I believe Mancini will play a huge role in this game, his tactics, his pre-match talk, his half-time talk will all have to be SPOT ON.

VAI RAGAZZI VAI VAIIIII LETS DO IT!!!!!!!!!
Last edited: